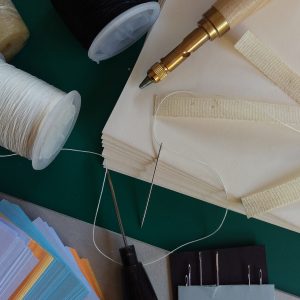 All familiar with www. but for binders this Saturday it is sss. Section Sewing Saturday 14 September, 9.30am to 12.30pm, Rm 3, Hughes Community Centre.
The morning will start at 9.30. Many binding styles involve stitching, so your committee has designed a morning of hands-on activities around the topic of 'Section Sewing'. Many questions arise when sewing sections and let's see if they can all be answered. Experienced CCBG members have volunteered to share their knowledge by teaching this Saturday.
If you want to practice section sewing please bring along a text block. Suggest a text block of 7 sections. Alternative to a text block is to bring along paper and your bone folder to put together a text block to stitch. Come along only $5 which goes to cost of hiring room.
Last Drop-in Saturday for 2019