Case binding is a bookbinding style that creates a durable book complete with a hard book cover and a covered spine.
This project builds on the essential bookbinding techniques learnt in the beginner's workshop.
In this workshop, you will be delighted by what you can achieve and learn in one day.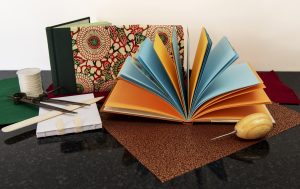 The book will be covered with beautiful Japanese decorative paper and cloth.
The book signatures are sewn together over tapes and secured at the head and tail with Kettle Stitch. The spine is finished off with head bands.
Classes are limited to a maximum of 10 students ensuring plenty of individual assistance.
To book a place, please register at canberrabookbinders@gmail.com.
Date Saturday 26 March, 2022, 9.30am – 4.30pm
Venue Hughes Community Centre
Fee Members $70  Non-members $110
All materials to construct the books will be provided and there will be a selection of decorative papers to choose from, to finish your books in style.
A list of what to bring will be sent after you have registered for the course.