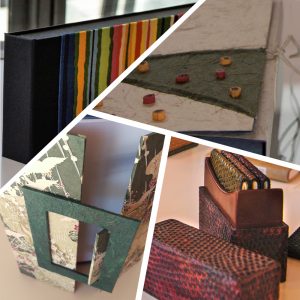 Check out the blog for news on activities, ideas and read about members projects in 2023….
The Canberra Craft Bookbinders' Guild has members from all around Canberra and the ACT region. A few from further outwards in NSW, Qld  and SA . Members meet every month, with newsletter  'Raised Bands' published every two months.
The Guild objectives are:
To promote and exhibit the art of the hand-bound book.
To maintain the traditional craft bookbinding skills.
To seek to exert a progressive influence on the design and technique of bookbinding.
We have a variety of interests within the Guild, from traditional craft bookbinding skills through to alternative book arts experimentation. Activities and meetings are organised to engage with many of these interests.
Meetings – Thursday evening and  Saturday mornings and workshops
Meetings are held at the Hughes Community Centre, Wisdom St, Hughes. Visitors are most welcome. For more detailed directions, please go here.
Next evening meeting, Thurs, 12 October 2023, 7:30pm – 9.30pm 
Next morning meeting, Sat, 18 November 2023, 9:30 am – 12:30pm
For a complete schedule of 2023 meeting activities go to the events page.
The Guild conducts and hosts workshops for members and the public.
blank line