UPCOMING EVENTS
Regular Guild meetings are held at 7:30pm at the Hughes Community Centre, Wisdom Street, Hughes on the second Thursday of every alternate month: February, April, June, August, October, December.
Meeting outlines for 2021:
 February 11, 2021
BIND CHALLENGE 2021 announced.
Activity
In the Conservation Lab
Talk by Freya Merrell, Senior Conservator at the NLA, with a brief overview of book conservation at the National Library of Australia. She will share an insight into the world of conservation, sharing some of the magnificent bound volumes of the Nation's collection, and how they are treated to ensure their survival and accessibility for future generations.
April 8, 2021
Activity 
Eco dyeing meets bookbinding
Demonstration by Vicki Woolley on the process of introducing colour and shapes onto paper using botanical material. Vicki will be using the leaves from the Quercus palustris 'Freefall' wholly developed in Canberra in the 1960s by a team led by Dr Robert Boden. Leaves are sculpturally interesting with their sharp lobes and can be collected from many gutters around Canberra.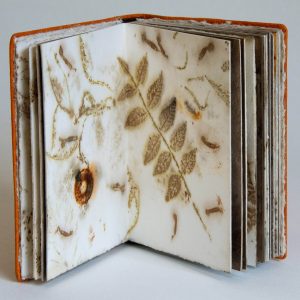 June 10, 2021
Activity – Ethiopian and Byzantine Endbands with Freya
Demonstration by Freya Merrell of Ethiopian and Byzantine Endbands.
Following the demonstration try making your own Ethiopian endband. Materials will be supplied.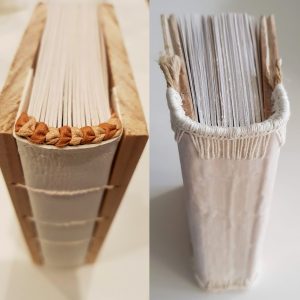 August 12, 2021
AGM: please make sure your membership is current and come along and discuss the achievements of your Guild and what's in store in the year ahead.
Activity – TBA
Guild 21 – please bring along your books for the members exhibition.
October 14, 2021
Activity – TBA
December 9, 2021
Bind Challenge 2021 – Logomorphos
Bind Challenge, pop up exhibition and talks by binders.
Who will receive the gift for participating in the 2021 challenge ? Enjoy light refreshments while members speak about the design, materials, binding style and the making of their entry in the 'pop up' exhibition.
WORKSHOPS & OTHER LEARNING OPPORTUNITIES
Check out our dedicated Workshops page.
CURRENT / UPCOMING EXHIBITIONS
GUILD 2020 exhibition of members work is not on display this year due to COVID 19 restrictions.