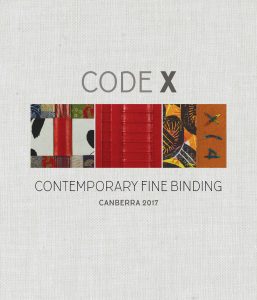 The National Library of Australia (NLA) have digitised the catalogue. View only.
View only through NLA Trove here.
Available in hardcopy $20AU plus postage. Email admin[at]canberrabookbinders.org.au
The Canberra Craft Bookbinders Guild staged an international exhibition of contemporary bindings in conjunction with our national conference.
Opened by Brendan Smyth, Commissioner for International Engagement for the ACT Government on Thursday 9th February 2017, 6pm.
Exhibition dates and venue were: 7th February till 28th March 2017, CraftACT Gallery, Canberra, Australia.