Guy Begbie will be in Canberra tutoring this two-day workshop in April. This workshop is designed for participants with or without bookbinding experience.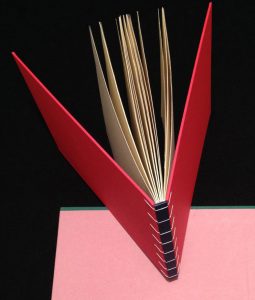 Saturday 4 & Sunday 5 April 2020
9.30am to 4.30pm both days
Bookarts Bindery, Canberra

Fee $240

Deposit $100 required to secure a place

All materials provided for the workshop.

What to bring: TBA 
Please email canberrabookbinders@gmail.com to secure your spot.
Participants will have the opportunity to make a hardback book that has an elegant and distinctive thread pattern of sewing.
This is used to lace the front and back covers to the cover spine piece. The cover is made up of three separate components. The sewing is visible on the outside of the book. Measures are taken in the binding construction, to hide the interior thread on the inside of the covers.
The book block/pages are made up of signature folios that are attached in the sewing process to the inside spine of the cover. Learn variation in page structuring in each of the page sections with some gate folds and throw out pages. This binding is robust and durable and allows the book to lie flat when open.
Guy Begbie is a UK based interdisciplinary artist printmaker, bookbinder, independent bookbinding & book arts workshop provider and an associate art and design lecturer at the University of the West of England, Bristol, UK. Guy exhibited his work in 'Code X: Contemporary Fine Binding' at Craft ACT: Craft and Design Centre, Canberra, 9th February-27th March 2017.