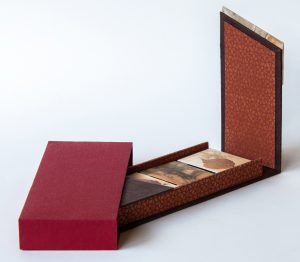 At our next meeting Chris will introduce slipcases and chemises.
When: Saturday  9 July 2022, 9.30am – 12.30pm
Where: Room 3, (COTA) Hughes Community Centre, Hughes, ACT.
'Ten Minute Slipcase'  – Make your own slipcase. It is quick to make, but takes 40 minutes or more to allow for accurate measuring and cutting.
What to bring:
A bound book (hand bound or commercial) width 160mm or less
Your bookbinding kit
Bone folder
Metal ruler
Retractable sharp knife with snap off blades
Cutting mat
Fine pencil and notebook
Big scissors
Dividers if you have them
Camera/phone to take images
All other equipment and materials will be supplied including card, PVA, rollers, paper strips for measuring. A few dividers will be available for sale.
During the morning we will explore:
What is a slipcase ?
Why do you want a slipcase ?
 A slipcase within a slipcase.
Adding a ribbon to the slipcase design.
Show and Tell – We will also show and chat about other loose coverings for books such as chemises, wrappers and boxes – Please bring some to show if you have them.
Look forward to seeing you all there!