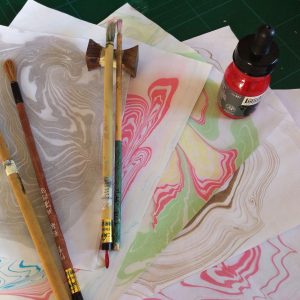 When: Saturday 8 May 2021, 9.30am – 12.30pm
Where: Room 3 Hughes Community Centre, Hughes, ACT
Vicki, Ros and Nicky will demonstrate Suminagashi, also known as Japanese marbling.
A technique of decorating papers that has been practised in Japan for centuries.
Like a meandering stream or a feather floating on a gentle breeze, we will let nature form the patterns.
Use as end papers, book covers or  backgrounds for printing.
Materials  provided for people to try this technique.
What to bring
Container to put damp papers in to take home
Pencil, pad and camera to take notes
See you all for a relaxing morning of Suminagashi.