Book Art Object exhibition until 28 Nov
Book Art Object
Photos of exhibition space and books can be viewed here.
Library Gallery, UNSW Canberra (ADFA), Northcott Drive, Campbell, Canberra
17 October – 28 November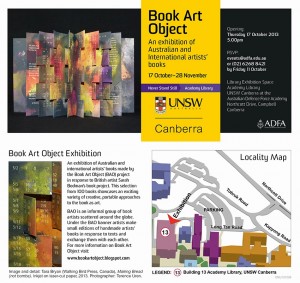 Book Art Object an exhibition of Australian and International artists' books made by the Book Art Object (BAO) project in response to British artist Sarah Bodman's book project.
This selection from 100 books showcases an exciting variety of creative, portable approaches to the book as art. BAO is an informal group of book artists scattered around the globe. Under the BAO banner artists make small editions of handmade artists' books in response to texts and exchange them with each other. Caren Florance and Terence Uren worked on two stories each, and the books that they have received in return form the exhibition.
Vicki W