Sketch book, no stitching
Saturday 14 March 2020
9.30am – 12.30pm, Room 3 Hughes Community Centre, Hughes, ACT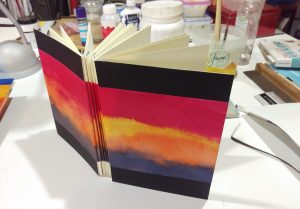 Teresa and Wendy will demonstrate how to make this sketch book.
It is a robust A5 hardcover book made with very little equipment. It opens out flat, pages can be removed and replaced. No sewing and very little adhesive. It has been tested by young children, artists, and others over the past few months and seems to stand up well.
Materials will be provided so all of us can make this book after the demonstration to take home.
What to bring
Cutting mat
Craft knife
Bone folder
Metal ruler
Glue stick
Pencil
See you all at our first drop-in for 2020.
$5 each to go to room hire.